With the 2022 FCS season coming to a close with the National Championship in a few weeks, let's take a look back at how FCS teams performed against the FBS. There were 120 FCS versus FBS matchups in 2022, which set a record for most in a single season. For the FCS, it was a solid showing for a second straight year and we will break down some of the numbers for 2022 and the past few years below.
8 FCS Wins
There were a total of 8 FCS wins in 2022, which was 4 fewer than in 2021. However, the 20 total wins over the last two seasons combined was the best two-year stretch since 2012 and 2013 when the FCS put up 26 wins against FBS competition. A year-by-year list of FCS wins can be found here. The 8 FCS over FBS wins are listed below.
September 2: William & Mary @ Charlotte, 41-24
September 3: Delaware @ Navy, 14-7
September 10: Eastern Kentucky @ Bowling Green, 59-57 (7 OT)
September 10: Incarnate Word @ Nevada, 55-41
September 10: Holy Cross @ Buffalo, 37-31
September 10: Weber State @ Utah State, 35-7
September 17: Southern Illinois @ Northwestern, 31-24
September 24: Sacramento State @ Colorado State, 41-10
2022 FCS Versus FBS Per Game Stats
Below is a bar chart showing the averages of most statistical categories across all 120 FCS versus FBS games in 2022. The bar chart below is normalized to 100% and the numbers on each bar represent the FBS average for all the games in 2022. FBS is shown in blue and FCS is in orange.
2022 FCS Versus FBS Games – By Points Scored
Below is a chart showing each of the 120 FCS versus FBS games in 2022 sorted by the amount of points scored by the FCS from highest to lowest. The game is featured on the left with the week it was played in parentheses. FCS points are in orange, FBS points are in blue, and the winning team's color highlights the line (i.e. an FCS win makes the line orange as shown with Incarnate Word's 55-41 win over Nevada).
Best and Worst Offensive Performances in 2022
For the past few seasons, we have been tracking the team statistics for all FCS versus FBS matchups. Below, we will list the best (highest) and worst (lowest) FCS team performance in each category.
Most Points: 59 by Eastern Kentucky against Bowling Green in week 2.
Fewest Points: 0 by multiple teams. 18 FCS teams were shut out in 2022.
Most Total Yards: 640 by Fordham against Ohio in Week 4. Fordham lost 59-25.
Fewest Total Yards: 50 by Wagner against Syracuse in Week 5. As you'd expect, Wagner lost the game handily (59-0).
Most Passing Yards: 503 by Fordham against Ohio in Week 4. This was a brutal loss for Fordham though they still reached the playoffs.
Fewest Passing Yards: 19 by Wagner against Syracuse in Week 5. This wasn't a pretty game for Wagner.
Most Rushing Yards: 298 by William & Mary against Charlotte in Week 1. The Tribe took over in the fourth quarter for the first FCS win in 2022.
Fewest Rushing Yards: 9 by Norfolk State against James Madison in Week 2. Did the Dukes really have to do that to their former FCS brethren?
Most Turnovers Committed: 5 by three different teams in Week 2. Gardner-Webb against Coastal Carolina, Southern against LSU, and McNeese against Rice all committed 5 turnovers.
Fewest Turnovers Committed: 0 by multiple teams. 20 FCS teams did not commit any turnovers against FBS teams in 2022 but only 2 of those 20 games resulted in a win (William & Mary against Charlotte and Holy Cross against Buffalo).
Most Interceptions Thrown: 3 by multiple teams. 11 FCS teams threw three interceptions against FBS foes in 2022. The average score of those games? 43-14 in favor of the FBS but one of those games was a win by the FCS - Weber State's dismantling of Utah State 35-7 in Week 2.
Fewest Interceptions Thrown: 0 by multiple teams. 34 FCS teams did not throw any interceptions in 2022 against FBS opponents. Three of those games resulted in FCS wins (William & Mary, Delaware over Navy in Week 1, and Holy Cross).
Most Fumbles Lost: 4 by Southern against LSU in week 2. It was a rough game for Southern as they committed 5 total turnovers in a 65-17 loss but we were glad to see Power 5 teams schedule HBCUs and hope they continue to do so.
Fewest Fumble Lost: 0 by multiple teams. 65 FCS versus FBS games resulted in no lost fumbles by the FCS.
Most Time of Possession: 40 minutes and 17 seconds by Lamar in a 45-16 Week 2 loss against SMU. Honorable mentions: Western Carolina held the ball for 40 minutes and 16 seconds the same week against Georgia Tech (lost 35-17) and Valparaiso held the ball 40 minutes and 9 seconds (lost to New Mexico State in the final FCS-FBS matchup of 2022).
Least Time of Possession: 19 minutes and 57 seconds by Samford in a shutout loss at Georgia (33-0). We still can't believe Georgia let Samford have the ball that long.
Most First Downs: 29 by Eastern Kentucky in Week 1. EKU ended up losing 42-34 despite outgaining Eastern Michigan by nearly 100 yards.
Fewest First Downs: 3 by Samford in Week 2. No need to elaborate on this game again.
Most Penalties Committed/Most Penalty Yards: 18 by Incarnate Word in Week 2. The Cardinals won 55-41 over Nevada despite committing 18 penalties for 145 yards and also turned the ball over twice.
Fewest Penalties Committed/Fewest Penalty Yards: 0 by Kennesaw State in Week 2. The Owls were disciplined in the penalty department but lost 63-10 against Cincinnati.
Best Third Down Conversion Rate by Percent: 67% by 3 teams. Eastern Illinois against Northern Illinois in Week 1, Eastern Kentucky against Eastern Michigan in Week 1, and Sacramento State against Colorado State in Week 4 saw all three teams convert two-thirds of their third down attempts. Sacramento State won its game while Eastern Illinois (34-27 loss) and Eastern Kentucky (42-34 loss) kept it to a one-score game.
Most Third Down Conversions: 12 by Eastern Kentucky in Week 1. As one might expect, the most came from one of the three games mentioned above with EKU converting 12 of 18.
Worst Third Down Conversion Rate by Percent/Fewest Total Third Down Conversions: 0% by Youngstown State in Week 3. The Penguins struggled against Kentucky in a 31-0 loss as they failed to convert any of its 10 third down attempts.
Most Third Down Attempts: 20 by 2 teams. Kennesaw State against Cincinnati in Week 2 and Texas Southern against UTSA in Week 4 went an identical 8 for 20 on third downs.
Fewest Third Down Attempts: 7 by North Dakota State in Week 3. The Bison went 3 for 7 in the close 31-28 loss against Arizona.
Most Rushing Attempts: 61 by Kennesaw State in Week 2. The Owls make another appearance on this list when they attempted 61 rushes to gain 142 yards on the ground.
Fewest Rushing Attempts: 15 by Charleston Southern in Week 2. This number is kind of surprising given how often FCS teams are trailing in these contests. We would have expected the number to be a bit lower. The Bucs ran 15 times for 36 yards against NC State in a 55-3 loss.
Highest Yards Per Carry: 6.3 by William & Mary in Week 1 and North Dakota State in Week 3. William & Mary ran all over Charlotte with 47 rushes for 298 yards in the season's first FCS over FBS win. The biggest FCS-FBS matchup coming into the season had a lot of the Bison hallmarks as they ran for 283 yards on 45 carries.
Lowest Yards Per Carry: 0.3 by Norfolk State in Week 2. James Madison put a hurting on Norfolk State when they won 63-7 while holding NSU to just 9 yards rushing on 26 carries.
General Trends
When we look at the last 4 years of data for the per-game stats, not a whole lot jumps out for 2022 compared to the previous three seasons except for points. We'll talk about that in a second but one that did change slightly was interceptions thrown (up to 1.2 per game from 0.95 for 2019-2021).
As for points, the FBS averaged 13.7 points per game, which is the lowest since 2012 when they averaged 12.9 points per game but won 10 of the matchups. Interestingly, the FCS lost by an average margin of 30 points per game in 2022, the 3rd worst margin since the 1978 split. The only two seasons with a worse margin of defeat were 2018 (31.1 points) and 2015 (30.7 points).
Another trend worth noting is that FBS teams continue to score plenty of points on FCS teams with an average amount of 43.7 points per game in 2022. The FBS has scored an average of at least 40 points per game each season since 2008. Meanwhile, the FCS has only eclipsed an average of 15 points per game three times since 2008 with 15.6 points per game in 2013, 16.2 points in 2018, and 16.7 points in 2020. Having said that, the historical average since 1978 is 15.4 points per game for FCS teams so it's not a huge variation overall.
One final stat to mention is that in the 8 FCS over FBS wins, the FCS teams scored an average of 39.1 points. That is the 2nd best total for FCS wins since the split in 1978 with 1997 besting the 2022 season at 40.6 points in those 5 FCS wins. There's not a lot to take away from this stat other than the FCS was simply dominant in those 8 wins.
Year-by-Year Per Game Stats
This article will end with a little shameless self-promotion. After every week of FCS versus FBS games, the per game stats are updated on posted on our Twitter and Facebook accounts. Below are the last 4 years of the per game stats for comparison. We hope you enjoyed the stats presented above and we look forward to following the 2023 FCS versus FBS matchups!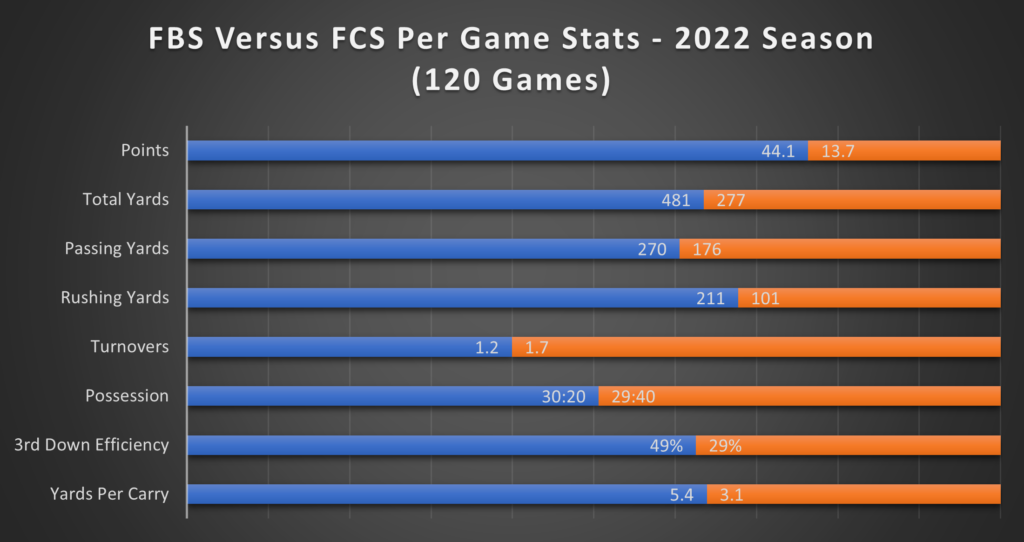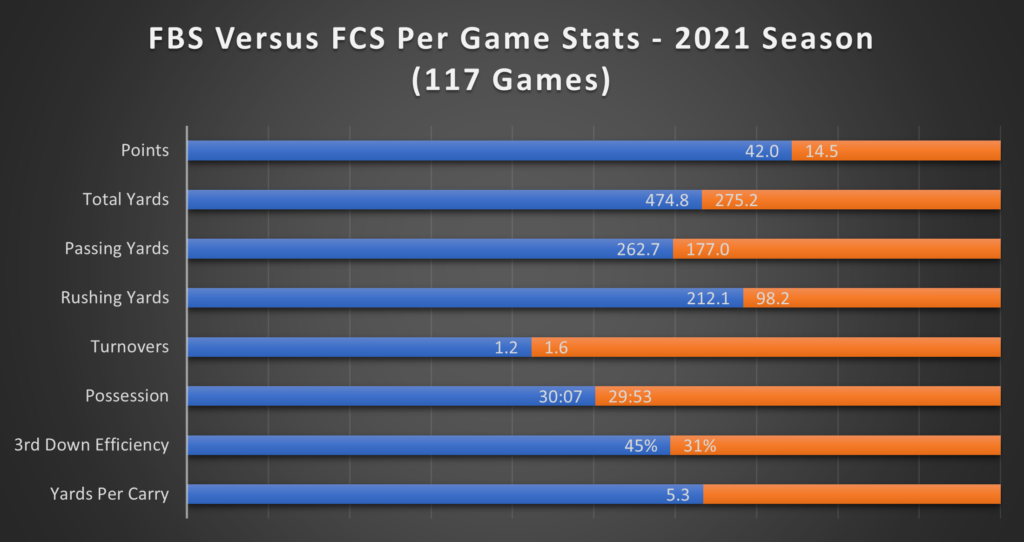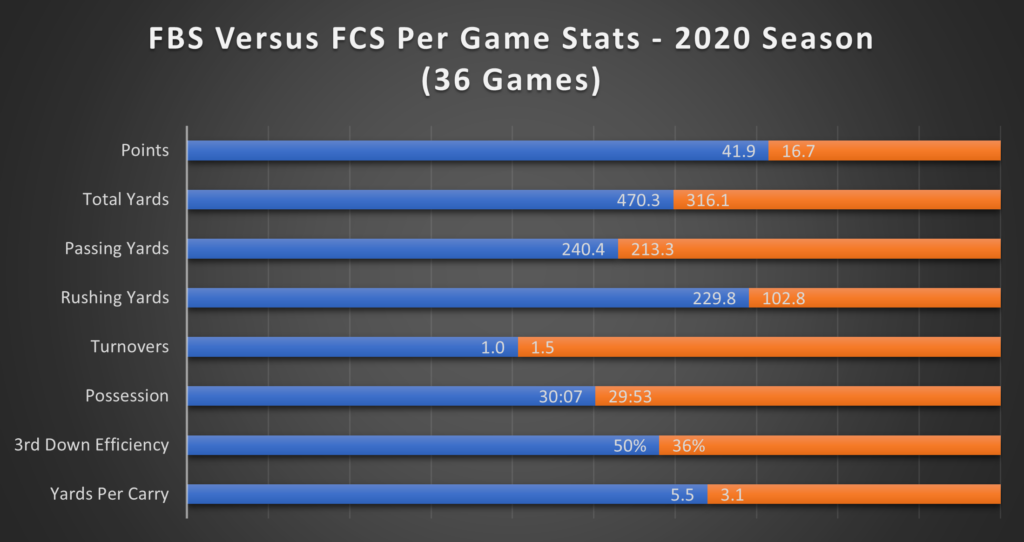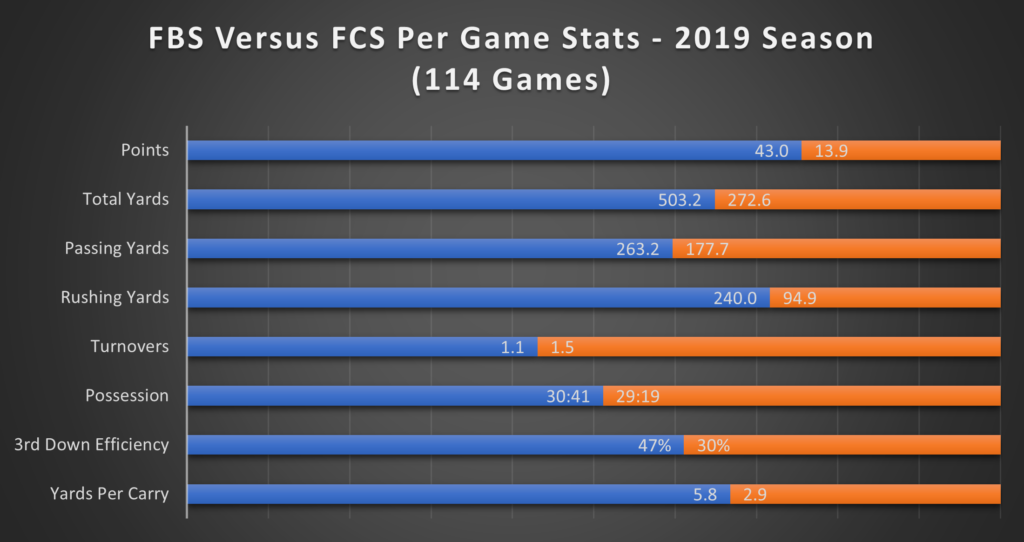 Photo courtesy of William & Mary Athletics