We want to welcome you back to the latest iteration of Fear The FCS! We have swapped out the old navy and gold for what we believe is a much more appreciated color scheme and simplistic layout. We hope you enjoy this update but a new interface is not the only update we have made.
We have made changes to some of the tables, which is the bread and butter of our FCS-FBS historical data. This will be a welcome change for anyone who wants the ability to search or sort by a particular column. We previously had these as hard-coded tables that had no flexibility to sort or search within them. The pages that now include this sortable and search function are Former FCS Teams, FCS Over FBS Wins, Conference Records, FCS Team Records, and FBS Team Records.
The FBS team records are a new addition as well. We figured since we did the leg work to get the FCS team records against FBS opponents, why not add in the opposite side of the equation? Below is a screenshot of the functionality of the updated table.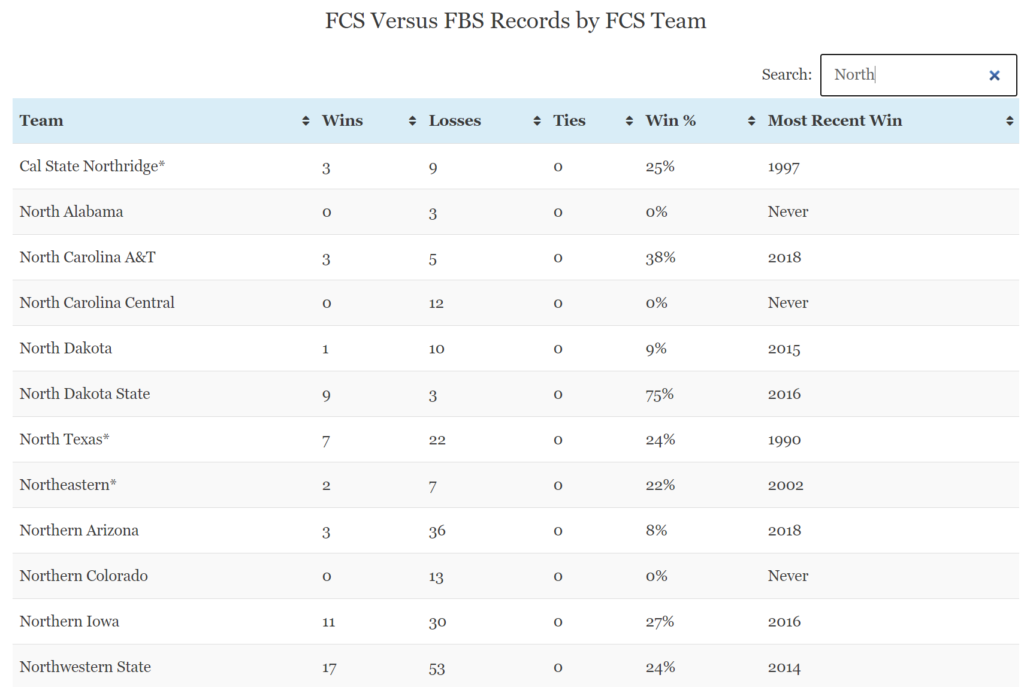 Some of the behind-the-scenes aspects have also been changed in terms of how we collect and input the data you see in the tables. We won't bore you with the nitty-gritty but the process has been largely automated, which will allow for near-instantaneous updates of the tables referenced above. In practicality, these tables will likely be updated after certain game time windows (i.e. completion of the 12 PM ET games, 3:30 PM ET games, etc.).
Content Changes
One of the biggest changes going forward will be the type of content posted. Looking back to 2020, it was clear that we were too focused on news of the FCS. To some extent, this was fine given the uniqueness and unprecedented changes we saw to the 2020 season. On the other hand, we never intended to be a pure FCS news site nor an FCS version of FBSchedules.
Having said that, occasional newsworthy articles will be posted mainly involving teams entering or leaving FCS and teams changing conferences within the subdivision. That is getting to the core of the website's creation: FCS versus FBS games. We've already posted the scheduled 2021 FCS versus FBS games and similar posts will be a staple going forward.
So what else will we focus on? Well, some ideas are bouncing around with a specific eye toward the near-weekly FCS-FBS games. For example, one article might give the schedule for the upcoming week's FCS-FBS matchups and also provide some random tidbits of historical data for the games.
One solid idea is to have a wrap-up of the previous week's game on Sunday or Monday that functions as a repository of information. To be more concrete, the article would have some facts and figures for the week's FCS-FBS games and the season to date. It would be similar to our "Inside The Box Score" series from 2020 but strictly through an FCS-FBS lens with more charts and graphs for easier digestion than a wall of text. Over time, with enough stats, we can provide more insights and in-depth analysis into FCS-FBS games.
A New Way to Support Fear The FCS
With the refresh to this website, we have also launched a Threadless Shop that can help support us! We have two logo designs, which are unsurprisingly the old logo and the latest edition one as well. We only offer t-shirts and long sleeve shirts at this time but are always open to newer items if there's enough demand. Please note that we do not store any information if you decided to purchase from Threadless as they will handle all the billing and secure housing of sensitive information.
We are excited to have launched this shop but don't expect us to spam some form of "buy our merch" into every article or non-stop on Twitter. While we'd love to sell a bunch of shirts, that's not the reason we started this website nor why we are interested in FCS-FBS matchups.
Long-Term Plans
Outside of the recent changes we mentioned above, there are still long-term updates we would like to incorporate. The first long-term update is providing a list of FCS-FBS games tailored to each team. Ideally, we would allow the user to search a team name, conference, etc. and come up with the corresponding entries and then provide a count or sum.
We have tinkered with some databases that will provide a complete list of the FCS-FBS games since 1978; however, they usually have limited functionality or distorts the webpage. This falls under the "long-term" because the available options may be prohibitively time-consuming, expensive, or a combination of both. We'll continue to search for a solution on this front.
Finally, we are also planning to go back through the box scores of FCS-FBS games dating back to 1978 and gather some pertinent statistics. Given how far back we are planning to go, long-term is a generous way to describe how long this may take. Don't expect too much on this front over the next year or two given the size of the project but it provides a nice long-range goal for us to provide more insights into FCS versus FBS matchups.
We hope you enjoy the changes and the future content that is on the way!